If you haven't already planned your office or family gift swap, this snowflakes printable Secret Santa template will help you quickly gather participants' information so you can assign gift givers and getters to each other straight away.
The design of this Secret Santa gift exchange freebie is glamorously glittery, featuring a shimmery green border decorated with various different snowflake shapes. The words "Secret Santa gift exchange" sit at the top of the page in red and gold glitter text.
This secret Santa template is designed to gather a lot of information in order to make it easier for folks to be clear about what they do and don't like. As well as space for the participant's name, there are more than two dozen space to indicate likes, dislikes, preferences, and basic information.
The snowflakes printable secret Santa template is divided into 6 sections: name, favorites, preferences, stuff you should know, this or that, and finally a space to indicate what the participant does in their free time.
Under the "my favourite" banner there are spaces to indicate favorites. These include scent/aroma, colors, candy, song, tradition, salty snack, musician/band, drink, store, book, flower, restaurant, and team.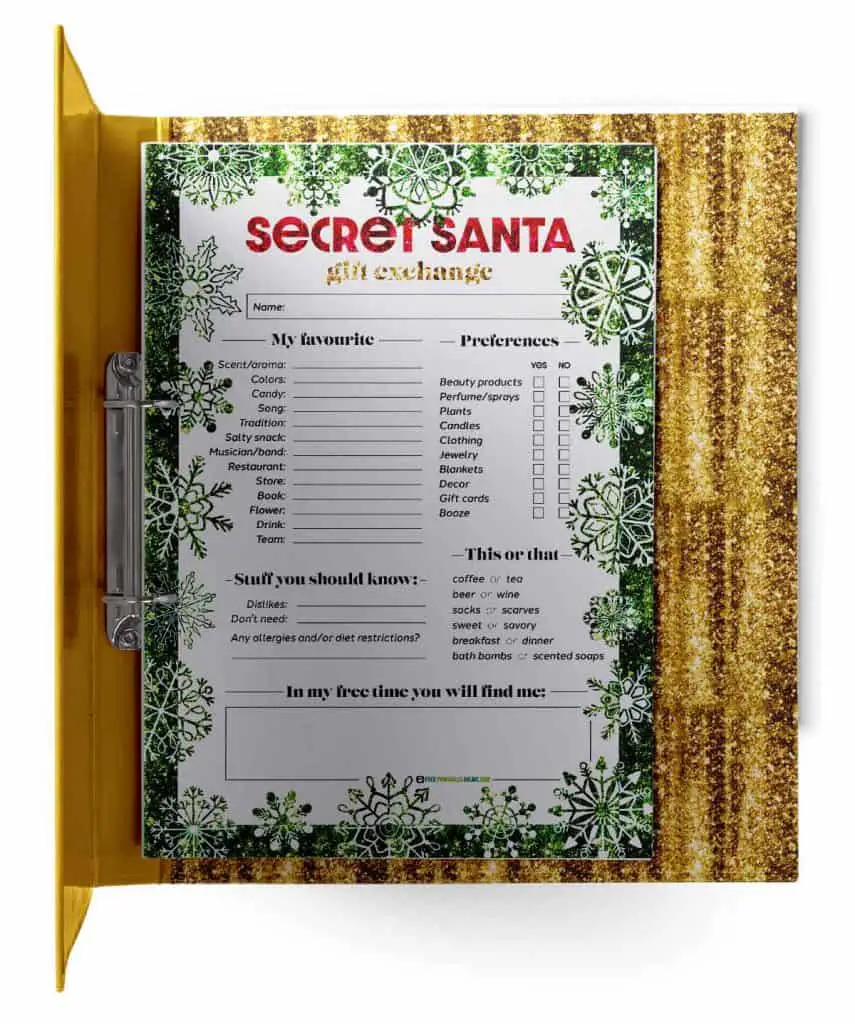 Beneath the perferences section are yes and no check boxes to indicate whether or not someone likes the following: beauty products, perfumes/sprays, plants, candles, clothing, jewelry, blankets, decor, gift cards, and booze (alcohol).
"Stuff you should know" allows space to add dislikes as well as allergies and/or diet restrictions, while "this and that" helps to narrow some other ideas down (coffee or tea; beer or wine; socks or scarves; sweet or savory; breakfast or dinner; and bath bombs or scented soaps).
Finally there is a box at the bottom under the banner "in my free time you will find me" for participants to indicate hobbies and drop hints about what they'd like.
You can download the secret Santa gift exchange templates below in both A4 and US Letter formats, depending on where in the world is Carmen Sandiego you're printing from.