This free printable social media planner for posts is a useful tool for helping you to plan your content on paper. Further, it is not platform specific, and hence you can use the sheet to plan for multiple platforms.
A brief explanation of the spaces provided on the sheet(s)… Major platforms are listed (Facebook, Instagram, Twitter, Youtube, and Pinterest), with space for you to write another. Checkboxes alongside the platform names can be ticked if desired. There's also space for you to write your account name, the publishing date of the intended post, the post title, caption and description, hashtags and keywords, links you wish to include, people you want to mention, and any additional notes that are relevant. Finally there are two spaces to fill in down the line: the number of views and number of likes.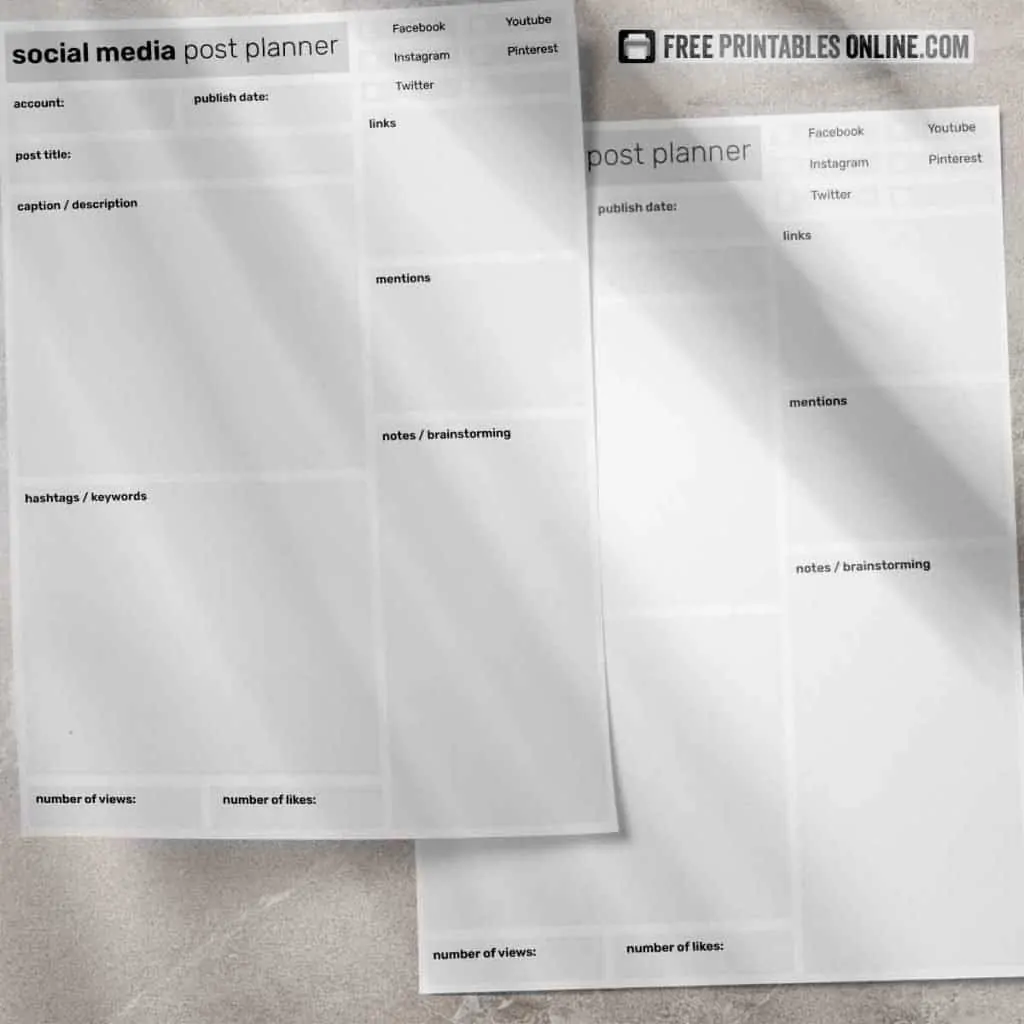 While I don't understand worshipping anyone for their popularity, and am hence confused by influencer culture, I do understand the need to be organized. This is true for any work, but when your job is based predominantly on the internet, it's important to be able to track and trace what you do and why. Social media platforms don't allow you access to much along these lines, so it's imperative to maintain as many details as you can for your own records and analysis. This set of social media post planners will help you to do just that, to keep records of your creativity and posts.
This free social media planner for posts is designed to be printed as is. This is so you can have the paper in front of you and brainstorm outside of the confines of a screen. A bit of exercise for your finger muscles by using a writing implement, away from a screen, never did anyone any harm (I think). Having said that, I have embedded the fonts used in the pdf files in case you want to make any edits. The fonts from the family used are Rubik Light, Rubik Regular, and Rubik Semibold. If you use Adobe Acrobat you can amend and delete text fields should you wish.
You can find Rubik for free through Google Fonts.
There are four sizes to download.
Full size A4
Full size US Letter
A4 sheet with two planners side by side
US Letter sheet with two planners side by side
Happy planning!