This social media brainstorming sheet is designed as a tool to conceptualize new ideas for your social media accounts. You might find this useful when you feel ideas are running short or as a regular exercise to aid your content conjuring. Sometimes use of a printable social media planner can help to lubricate the brain, help get the ideas stirring.
There are plenty of spaces for brainstorming content ideas. These include small spaces for the date of post and account name. Additionally, I've provided larger spaces to take down ideas of current events, events of the week and month, and your own post ideas.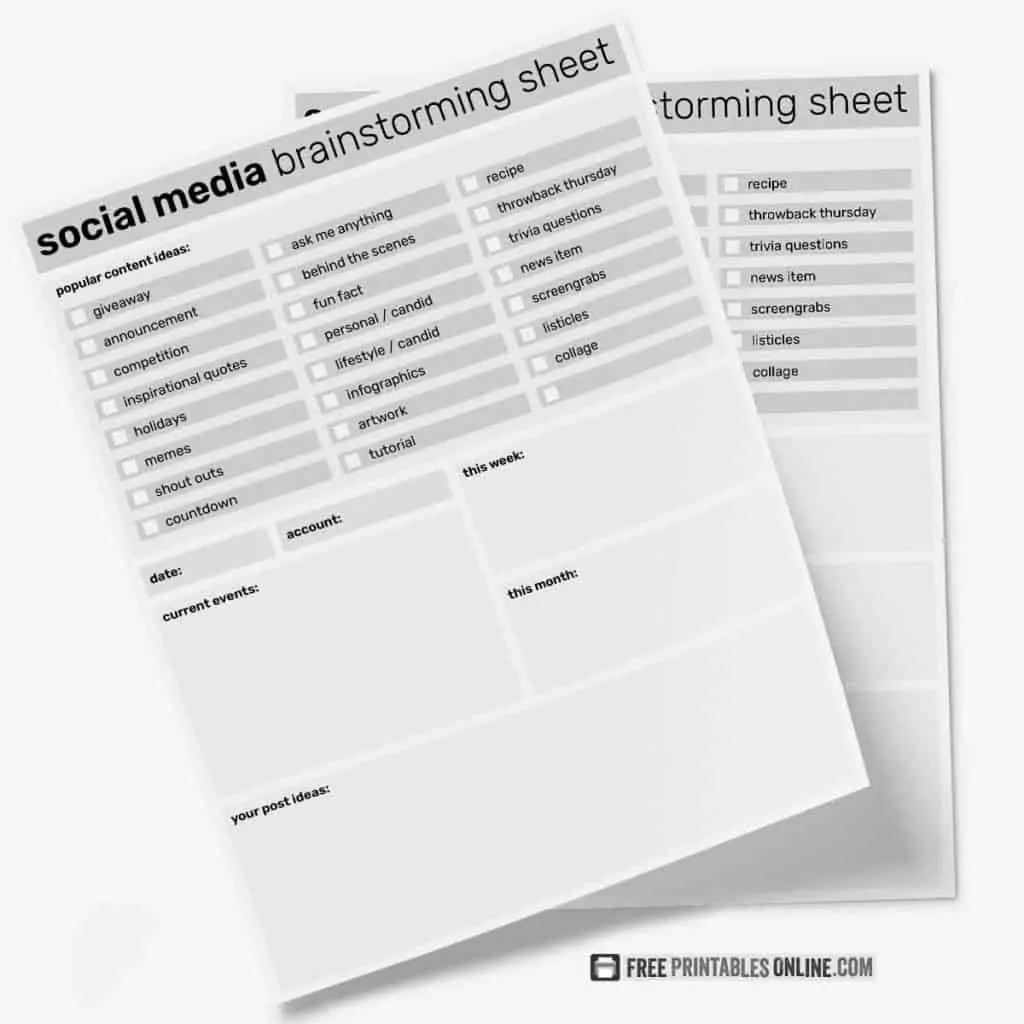 There's also a big list of popular content ideas that spans about a third of the page. I've left one spot blank in case you have an idea of your own to add.
giveaway
announcement
competition
inspirational quotes
holidays
memes
shout outs
countdown
ask me anything
behind the scenes
fun fact
personal / candid
lifestyle / candid
infographics
artwork
tutorial
recipe
throwback thursday
trivia questions
news item
screengrabs
listicles
collage
As with my social media planner, his free social media brainstorming sheet is designed to be printed as is. This is so you can have the paper in front of you and brainstorm outside of the confines of your laptop. Writing ideas by hand can be refreshing and help you remember more. Having said that, I have embedded the fonts used in the pdf files in case you want to make any edits. The fonts from the family used are Rubik Light, Rubik Regular, and Rubik Semibold. If you use Adobe Acrobat you can amend and delete text fields should you wish.
You can find Rubik for free through Google Fonts.
There are four sizes to download.
Full size US Letter
US Letter sheet with two planners side by side
Full size A4
A4 sheet with two planners side by side