I designed this infant daily report sheet for nurseries and daycare facilities so they could more easily record children's daily routine for parents and caregivers.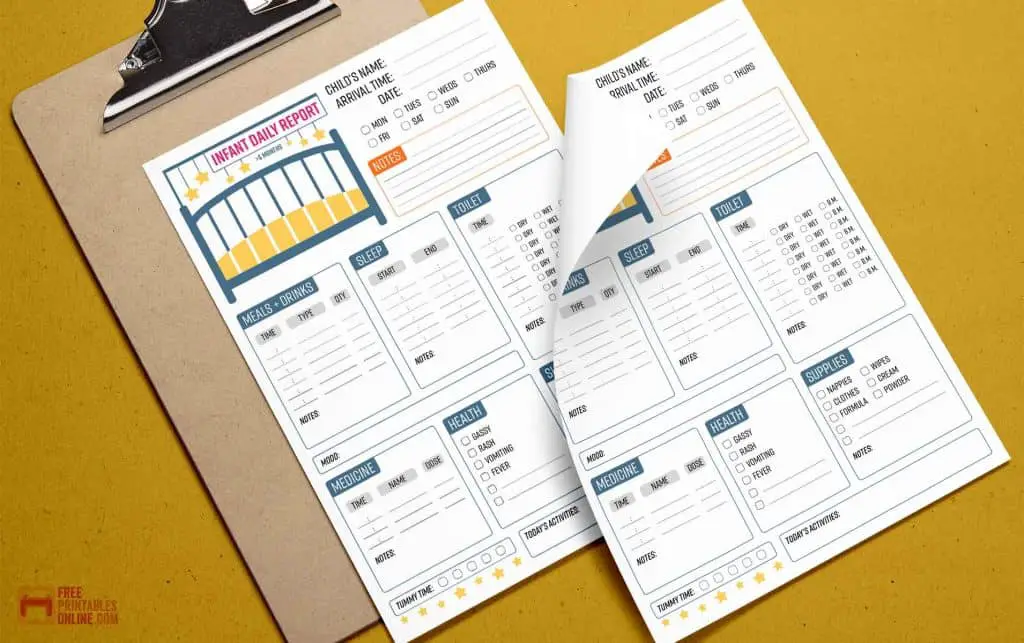 The forms are quite comprehensive, with space to note the following:
Drink and meal times, as well as quantities of food and drink the child consumed.
Sleep times and how many naps were taken.
Toileting routines, with space for time and whether the infant took a number 1, number two, or had a dry diaper.
Medicines (including time taken, dose, and name of medicine).
Other health concerns, with tick boxes for gassy, rash, vomiting, and fever, plus additional lines to add other symptoms if necessary.
Requests for supplies. Check boxes include nappies/diapers, clothes, formula, wipes, cream and powder. There are two additional spaces to write in other items.
Tummy time.
Today's activities.
Lots of space for additional notes about the day.
In addition to the space for specifics, each form contains space for the child's name, arrival time, date, and day of the week.
The design of the free printable infant daily report is colorful enough to stand out and look nice, but can be printed in black and white should you wish to save ink or if you only have a black and white printer.
These daily reports for infants can either be used by daycare facilities to be handed out as standard, or a parent can print them and request the nursery fill them out for their individual children.
You can download the record sheets below in both US Letter and A4 formats.