The inspiration for this 2020 free printable calendar came from the design of a sign outside of a Japanese restaurant in Bangkok. I had so much fun designing this and I hope you enjoy it as much as I do.
There is a retro vibe to the style, but with a more modern color scheme of red, blue, green, pink, and yellow. The year 2020 stands out in the upper left on a starburst background. I designed the calendar in a block layout, with each month contained within one section. I designed each monthly block to be interspaced with various patterned shapes. The patterns range from stylised asterisks to polka dots and broken stripes.
Some of the months include small illustrations associated with those months, like December has holly leaves and April has raindrops. The block for January contains snowflakes and February is decorated with hearts.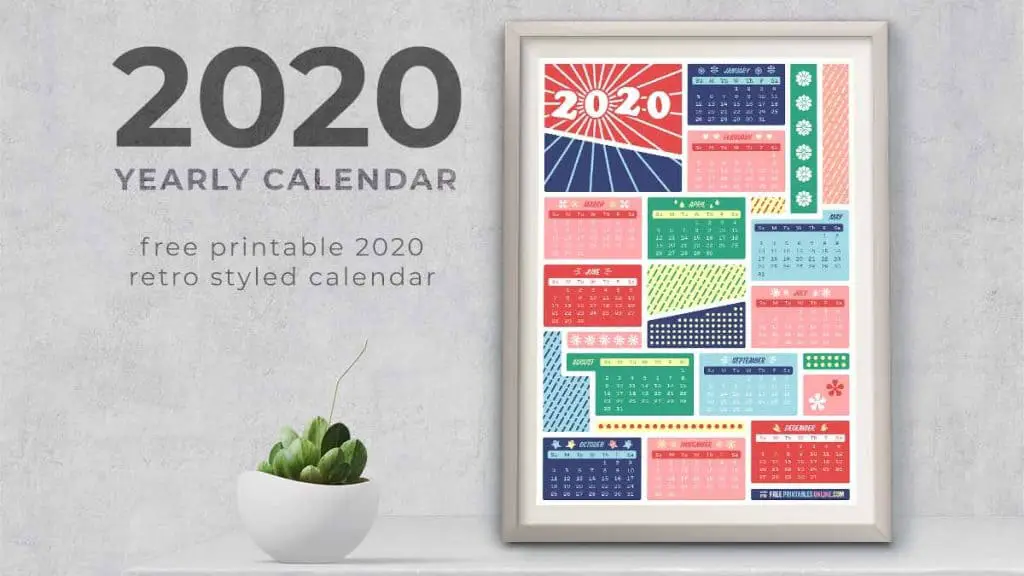 This 2020 free printable calendar is available to download below. It comes in two formats: US Letter and A4 size, so simply select which one you'd like, download the pdf, open and print.
P.S. I hope 2020 brings you all the best of luck. Life can be tricky to navigate, so take it easy out there!
P.P.S. COVID-19 has made 2020 suck. Sorry!