This free printable numbered fundraising ticket template is easily customized for any fundraiser. Across the top of the ticket is space for the person purchasing the ticket to write all of their contact details. This includes name, address, telephone number, and email address. Just below this is orange text that reads "ticket no." alongside a black banner with the number inside. Next is large banner text that reads "Fund Raiser" across two lines. Below this is an orange box in which you should type any details about your event. Example information might include who or what the event is raising money for. Finally there is a duplicate raffle number section at the bottom.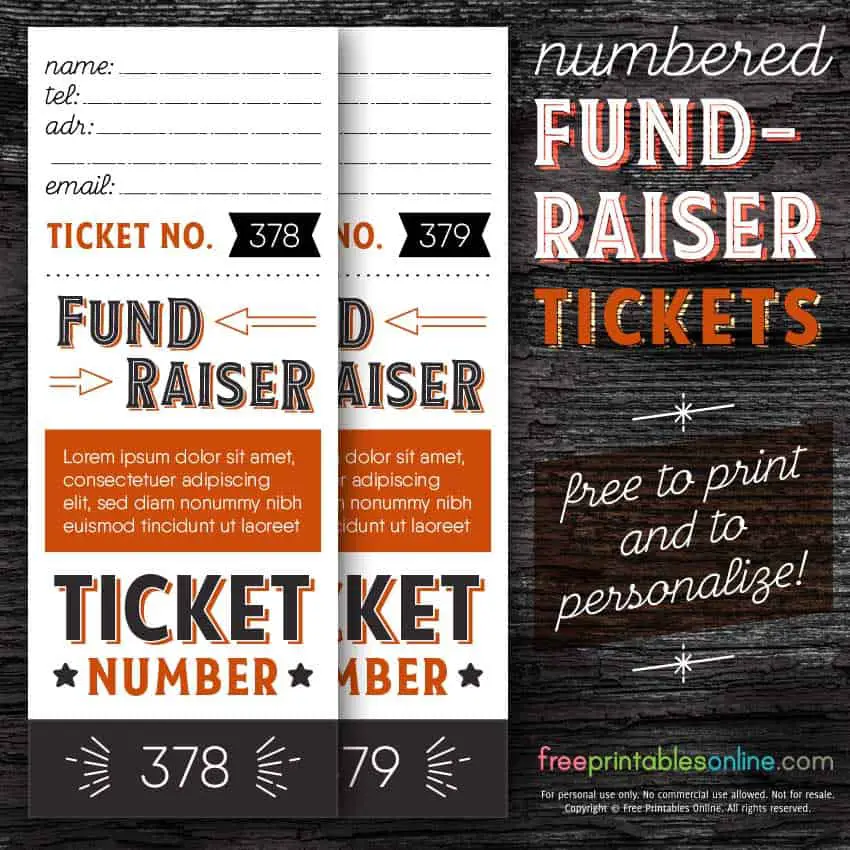 The vertical ticket 1.8 x 4.6 inches, with some blank space to personalize the text to suit your event. There are 8 tickets per printable page, and the ticket numbers are easily changed. Please note there are two matching ticket number fields on each ticket template. When you change one the other changes automatically. If you change the central text (the details) section, the text will change across all of the fundraising tickets.
For anyone interested in the font I use for the custom text, it's called Qanelas. If you want to use this font you must download it yourself.
Sharing is caring
If you love the products you download and use from freeprintablesonline.com, please help out by sharing the links on your favorite social media sites. The below image is perfect for Pinterest!