These Tropical Green custom photo graduation announcements can be easily personalized in OpenOffice Writer with your own picture.
The design of these printable graduation invites is leafy green with a tropical twist. A leafy border takes up the top portion of the front of the card, with an empty space to add your own picture. Below this is fixed text that reads "2018 graduate" also in green. Along the bottom of the invite is space to add the name of the graduate. If you are planning a party or want to use this as an invitation, you can write the details of the event on the inside of the card.
The announcements are 4.25 x 5.5 inches and will hence fit appropriate notecard envelopes (this is a standard notecard size, so envelopes should be easily sourceable).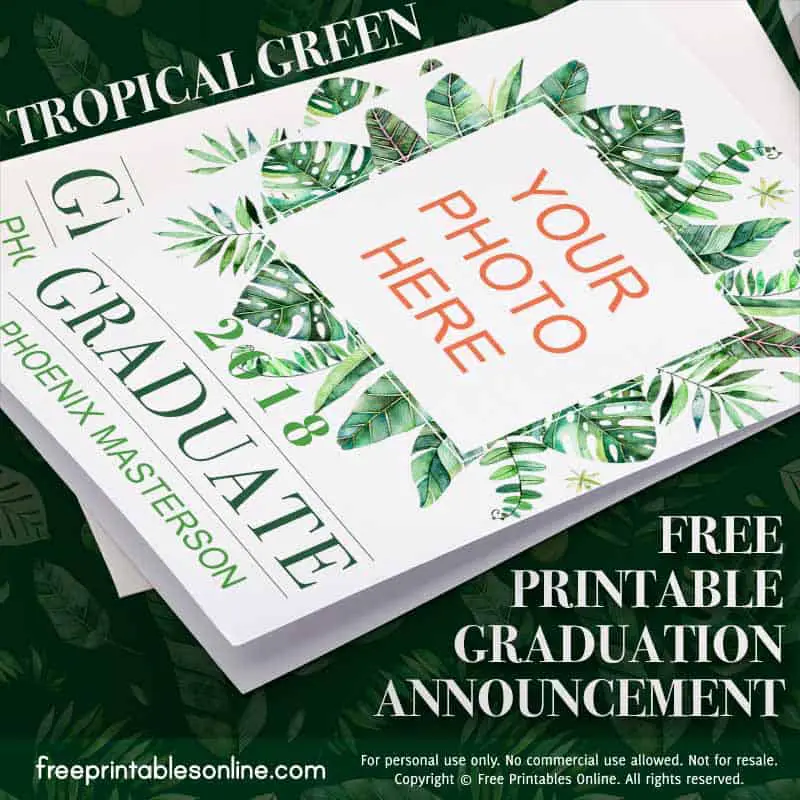 Steps to use this photo card:
Open the document (which you can download at the end of this post) in OpenOffice.
Make sure the card isn't selected. Hit esc once on your keyboard just to be sure.
Go to Insert > Picture > From File. Select the picture you want to insert on the card.
Right click on the image you've inserted. Click Arrange > Send to Back.
Move your picture into place behind the frame in the card. You can use the corners to resize the image.
To edit the text, double click on the text box
Go to File > Print.