If your little babe happens to have a February 14th birthday, these Valentine's Day 1st birthday party invitations are ideal. The color scheme is predominantly pink and red, with a few splashes of orange, blue, and gray. The aesthetic is very arts and crafts, with washi tape backgrounds and watercolor illustrations.
Along the top of the invitation fixed text reads "1st birthday party" in bold pink text. Below the header writing is a line of patterned washi tape with hearts, polka dots, and watercolor print. Both the left and right sides of the first birthday invitation feature bright watercolor hearts. The bottom of this free printable invite is lined with more washi tape and arrows with heart shaped points.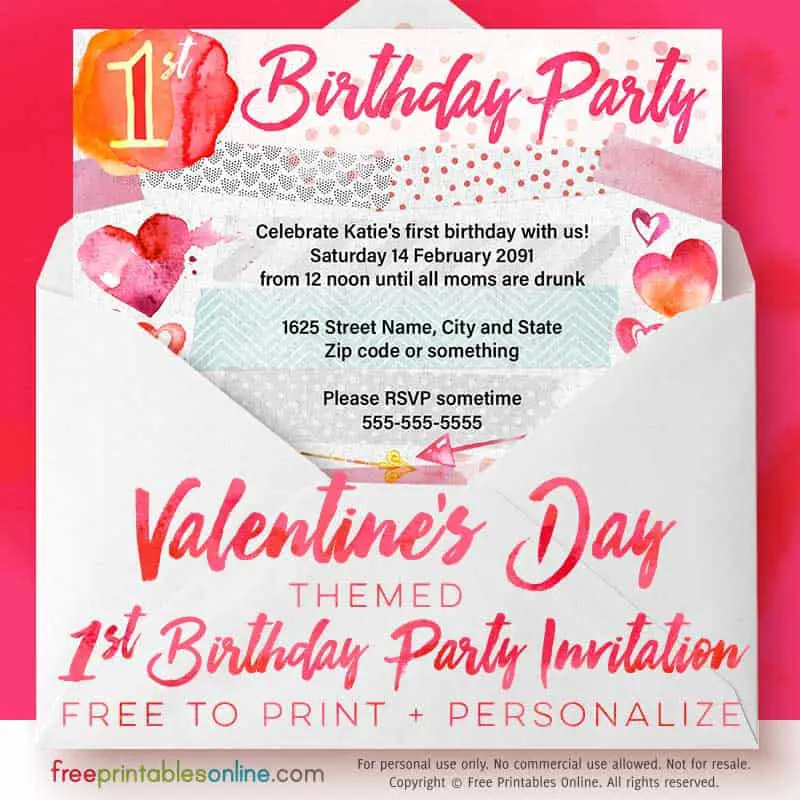 The center of the invitation, unsurprisingly, also features various washi tape prints, with plenty of the space to personalize with the details of your little one's first birthday party bash. Simply download the pdf file at the bottom of this post and type away. Alternatively print the cards blank and fill them in by hand.
There is also an envelope template attached to the pdf, should you need it.
Pin this sucker