With hundreds of different recipe book binders to choose from, you're bound to find a recipe album which will suit your personality and your kitchen. If you're not keen on these, then browse some more customized recipe binders and see if you can't find a recipe holder to suit you!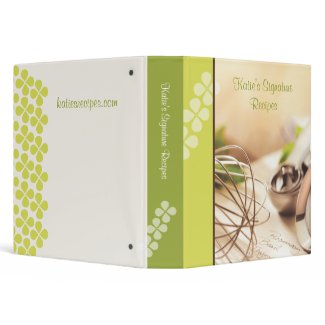 Created by and for Avery, this cute green and cream colored 3 ring recipe binder can be completely personalized with your own text (a great gift idea for your friend's new apartment?)
How to make your own recipe storage binder
These recipe binders are the perfect base component for a foodie Christmas gift. Find and print all your favourite recipes (hint: you could use our free printable recipe pages for binders). All you need to get those recipes organized are some plastic sleeves, your favourite recipes, and a binder book. You could extend this with cool tabs and/or pocket pages.