Perfect for those who love to get lost in a good book, these printable literary quotes bookmarks are free to download and print. The following famous author quotes are printed on the bookmarks:
All morning I struggled with the sensation of stray wisps of one world seeping through the cracks of another. Do you know the feeling when you start reading a new book before the membrane of the last one has had time to close behind you? You leave the previous book with ideas and themes — characters even — caught in the fibers of your clothes, and when you open the new book, they are still with you.

– Diane Setterfield
The Thirteenth Tale

You think your pain and your heartbreak are unprecedented in the history of the world, but then you read. It was books that taught me that the things that tormented me most were the very things that connected me with all the people who were alive, or who had ever been alive.

– James Baldwin

The best moments in reading are when you come across something – a thought, a feeling, a way of looking at things – which you had thought special and particular to you. Now here it is, set down by someone else, a person you have never met, someone even who is long dead. And it is as if a hand has come out and taken yours.

-Alan Bennett
The History Boys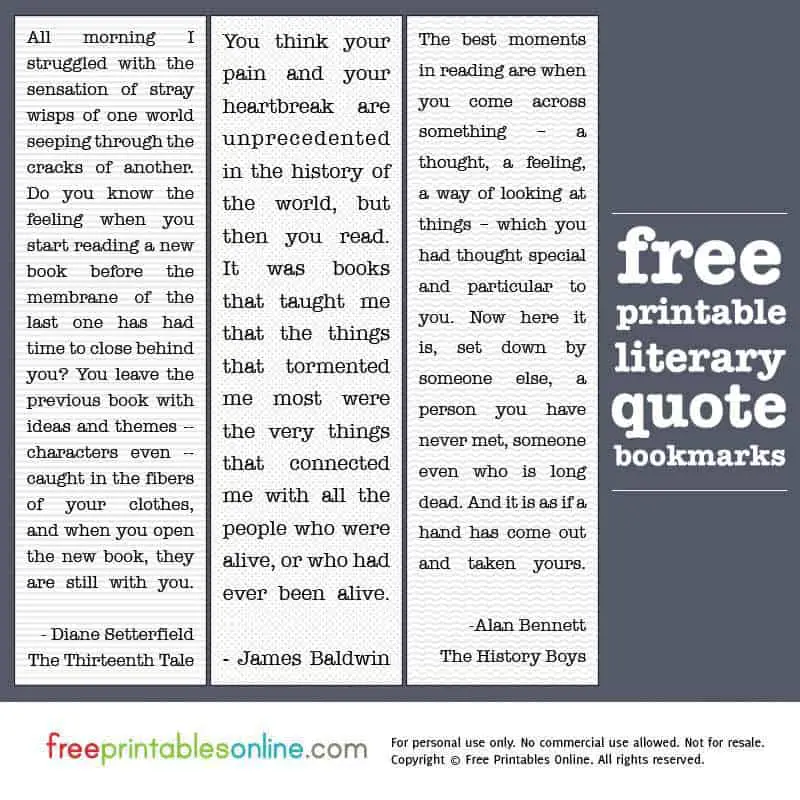 Download Literary Quotes Bookmarks
Download Literary Quotes Bookmarks in pdf format!