This set of four free printable 4×6 recipe cards features a colorful kitchen tools theme. Each card contains an illustration of a kitchen related implement in the upper right hand corner, next to the details of the recipe. One card features a sauté pan, one a knife and cutting board, another a set of drinking ware, and finally one shows an illustration of a plate and cutlery. Available in four bright colors – yellow, purple, red, and green – these recipe card templates have ample space to take note of all your best recipes.
A band of solid color spans the top of the recipe cards, and in that space is room to add the title of your recipe, who made it ("from the kitchen of…"), how many servings there are, the prep and cooking times, and any other notes you wish to add. Below the color band is space for the ingredients and instructions (method) on how to make the recipe.
You can either hand write in the spaces provided on the 4×6 recipe cards or you can open the .pdf available below and tab through the spaces to type your recipes in before printing.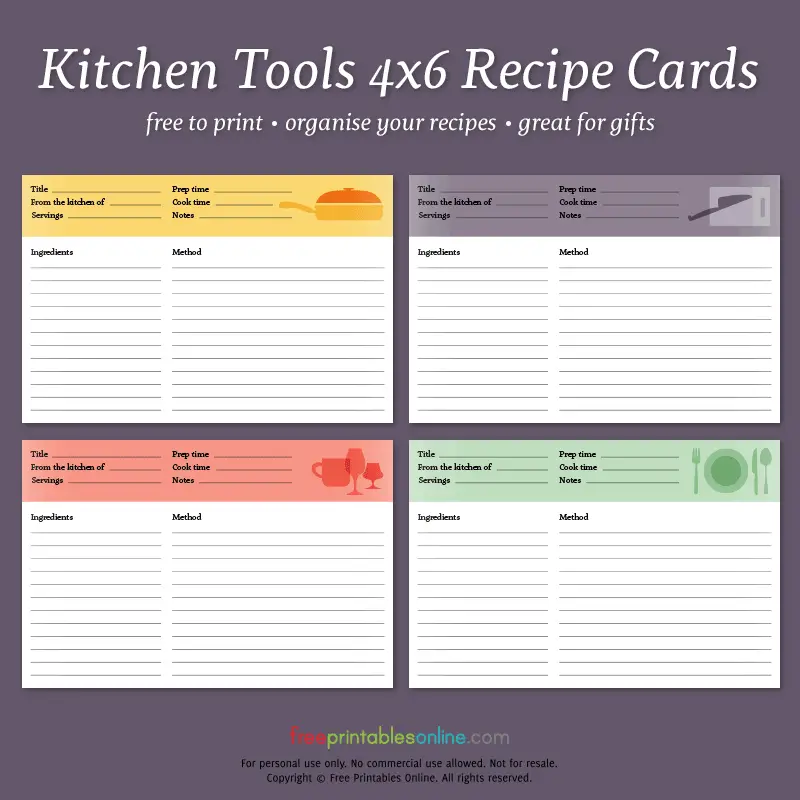 Download Kitchen Tools Printable 4x6 Recipe Cards
Download Kitchen Tools Printable 4x6 Recipe Cards in pdf format!