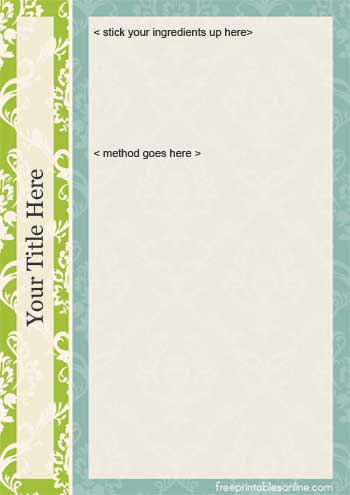 I'm trying to put together more recipe pages as they're great for the holidays. This year and every year people are looking for home made holiday gifts. This could be for a number of reasons, from money to simply enjoying the process of putting something personal into your gift giving. Here are some really cute printable recipe pages which feature cute and colorful Victorian damask patterns (think wallpaper). Print them out with your favorite recipes and stick them in a fancy binder for a lovable gift idea.
There are three different pages in the set, including pink and orange, purple and yellow, plus green and blue color combinations.
Download A4 Printable Recipe Page
Set of three damask printable recipe binder pages
Download Victorian Damask Recipe Pages in pdf format!
Victorian Damask Recipe Pages (3567)
Download US Letter Printable Recipe Page
Download Victorian Damask Recipe US Letter Pages in pdf format!
Victorian Damask Recipe US Letter Pages (2269)