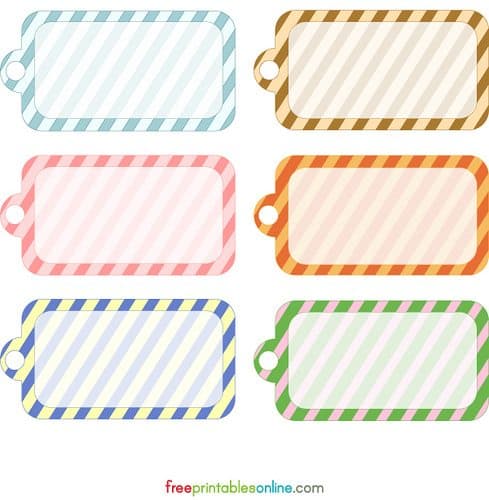 Gift giving just got a little bit more affordable since you can print your own gift tags rather than spending out on tags at the store! These classic printable tags feature a striped effect and are a great way to embellish any present, gift-wrapped or not. This gift tag template showcases a selection of 6 different printable tags (in 6 different colors). The tags are blank, so you can add a message fit for whatever the occasion.
It's recommended to print from the pdf file as it will ensure accurate sizing in print, but should you wish to print from your browser the images are available below the .pdf document.
To use these free printable gift tags, simply print the sheet and cut around the exterior/outside lines of each tag. Use a hold punch to punch a hole in the circle at the end of the tag and finish with a cute message written in the centre. Attach the gift tag with ribbon or string to a gift to add a little bit of unique flair to the packaging!
Download in .pdf format
Print From Web:
To print, click on the image(s) below and the Lists will open in a page which can be printed. It is, however, recommended that you print from the pdf document above.